Golfing Jim in Ireland
Golfing Jim is one of the paintings the artist painted in Ireland. It is the painting about our Scottish golfer neighbor who loved to sing when he was working in his garage.
As an artist, the painter is so keen at observing people. Be it a friend or not, you can be sure that if you have met him, he will notice something significant about you.
The artist admired the golfer though he had not seen him golfing. He could have painted a typical Scottish man with tartan clothes while singing in the garage but no, it was not what the painter had in his inner mind. He had the image of a gorgeous man swinging his golf elegantly directed to the holes of Carne Golf Links in County Mayo.
The huge (70x100 cm) Golfing Jim oil painting is hanging on the wall of our nice, former golfing neighbor in Ireland. The artist painted this beautiful oil painting as our remembrance to the golfer and his lovely wife. They will always remember us, every time they see the painting on their wall.
Thank you Bridget and Jim. You were always a good neighbor. God bless us all!
Some paintings of the artist are seen in the link below.
http://thelmaalberts.hubpages.com/hub/THE-BEAUTIFUL-PAINTINGS-THAT-SURROUND-ME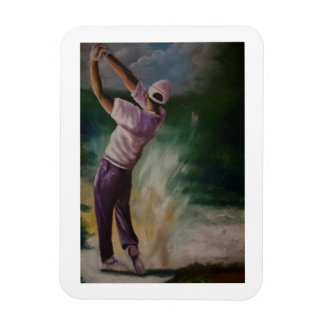 Golfing Jim Rectangular Photo Magnet
by
Thellys_Designs55
Browse other
vinyl magnet
The link above is the photo magnet I designed for Zazzle from the oil painting photo. More products you can see in my online store. http://www.zazzle.com/thellys_designs55*